Wilson Gil and the Willful Sinners
Wilson Gil and the Willful Sinners (Tinnitus Records)
By: Alex Steininger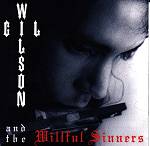 Fusing drunken mayhem, country, rock 'n' roll, and some more ballsy country sounds, Wilson Gil and the Willful Sinners are able to cook up some hot groovin' tunes that will put the jump back in your step. The band smokes as they pour over their instruments with immense passion.

There is a drawback, though. As much as Wilson Gil can write lyrics, and as much as the entire band can whip up good ol' country rock without breaking a sweat, but causing you to break one, Wilson's vocals are very lacking. He sounds like a drunken guy at a bar getting up on stage trying to make fun of some barroom country singer by mocking him. Now, this is not at all what the band is about, because they're honest, blue collar rockin' country boys having a good time. But for some reason I couldn't shake this feeling while listening to Wilson Gil sing line after line.

"18 Miles to Seattle" takes a shot at Sup Pop ("Stumbled into Sub Pop/ Half Drunk on Bloody Mary's that went over like a big flop/ Oh hell, Bruce and Jon are fairies") and his Northwest travels, while other hot numbers like "Hey Greg" and "Gunstore, Liquorstore, Project" deal with friendship and life in general. But the fact remains I could never get past the vocals.

If you're lucky enough to ignore the vocals and get into the music, there is plenty to enjoy. However, the vocals mock the music constantly, making them hard to ignore. I'll give this album a C.