Big Star
Nobody Can Dance (Norton Records)
By: Alex Steininger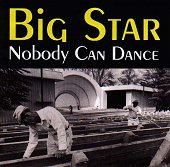 Legendary Memphis rockers Alex Chilton, John Lightman, and Jody Stephens (collectively known as Big Star) are back at it again, doing what they do best, rocking their fans! In long lost tapes from studio recordings in 1974, and some live recordings they did at Overton Park, Norton Records brings Big Start to life with some golden treasures that still sound amazing and timeless after all these years.

The classic "September Gurls" is brought to you twice on this album: once in its original format and once as a live recording. With Alex Chilton at the helm, the song comes to life both times, with the live show a bit rougher, but more sweat drenched. The pop hooks, the rock mayhem, and the sheer songwriting genius of the band is in full force. "Mod Lang" demonstrates the band chopping into some wild 70's rock, while the live counterpart (not every song has a live counterpart, don't worry) shows the band playing as a tight, powerful trio.

"O My Soul" finds the band dipping deeper into their rock 'n' roll bag of goodies, while "Don't Lie To Me," the album opener, is all about stomping your feet, having a great time, and kicking all your worries behind you. And, despite the title, NOBODY CAN DANCE, which gets its title from Alex Chilton taking the mic and informing the audience that the promoter has told them that the audience can't dance. But, with rock 'n' roll this good, stomping and moving is inevitable.

Alex Chilton, John Lightman, and Jody Stephens are in full force on this album as they give rock 'n' roll a spin and take in on a clever ride of wild nights, parties, and cleverly written lyrics and hooks. They say the greats never die, and this stands true for Big Star. Simply put, Big Star is one hell of a rock 'n' roll legend, and owning this disc insures your part of the history they ignited. I'll give this album an A+.