The Sonics
Here Are The Sonics (Norton Records)
Boom (Norton Records)
By: Alex Steininger



Norton Records is keeping rock and roll alive with their reissues of classic bands who set the foundation for kids to pick up a guitar and start jamming away; bands who gave you the idea that if they could do it, anyone could. This time around it's The Sonics with their 1965 debut and their 1966 follow up. The latter also features two live tracks, an outtake of their first hit, and one more bonus cut. It all points to fun.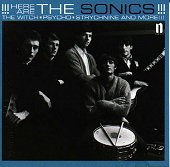 The band's debut album, HERE ARE THE SONICS, sounds refreshing and almost spiritual, especially in a world where rock music seems to represent heartless, corporate shoveled crap that is meant to numb the masses to generic tunes. But, one listen to HERE ARE THE SONICS and it all comes flying back to you. Their 60's rock and roll sound is crisp, crazy, and unpredictable, just like rock and roll was always meant to sound like.
The album opens with the band's first hit, "The Witch." A hammering rhythm section mixes well over sharp guitars and muscular, almost yelling vocals that help put even more of a roar into the fiery music. "Do You Love Me" shows the band can be just as powerful while adding in a hearty amount of melodic pop to sweeten the deal. But this isn't sugar and spice. The sweat and horsepower behind the song are still ever present and the growl of the music dashes out at you with speed. The best thing you can do is crank up the volume, start shaking, and enjoy it, because if you don't, it will only be moments before they get so insanely infectious that you'll have to to keep from going insane.
"Have Love Will Travel" is a sweet, juicy slab of rock that has all the intensity and charge of their other material, but also has a sensitive side as well. The love runs ramped through this one as they throw this spicy rock number your way, ensuring you dance. Same goes for "Money," another classic song that jumps to life when they do it.
"Strychnine," "Good Golly Miss Molly," and the two Christmas tones that face off each other, "Don't Believe In Christmas" and "Santa Claus," as well as the album closer, "The Village Idiot," all bring more fiery rock and roll straight from the gut through your speakers. If this isn't the most charged, anxious, and crazy-cool rock you've ever heard, then there is something wrong. This album is flat out amazing. Of course, so is there second LP, BOOM.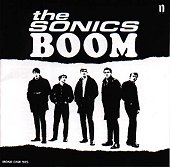 If HERE ARE THE SONICS didn't fully fulfill your rock appetite, BOOM surely will. "Cinderella" carries on with the standard sonic boom The Sonics are so very capable of. They whip up amazingly infectious, crazed, fully combustible sparks of rock; you could almost start a fire with their music alone. And as the album progresses, things get even hotter.
"Skinny Minnie" is yet another blissful song you'll instantly fall in love with. The aptly titled "Let the Good Times Roll" could almost be an anthem for the band or the era in which this music was created. And with some Sonics' music blasting, it could also serve as a reminder that through listening to the greats (like The Sonics) rock is being kept alive, and thus the good times are still plentiful.
"Don't You Know It," "Jenny Jenny," the always-a-hit "Louie Louie," and "Since I Fell For You" are yet a few more examples of why The Sonics were so amazing. They also further the fact, and add more proof, that Norton is doing a great thing by preserving their memory and making sure their music is available to the public.
The four bonus tracks that weren't originally available on BOOM are: the stomping "The Hustler," an alternative version of "The Witch," a live version of "The Witch," and a live version of "Psycho." All are amazing, and between the live power the band put out and their sheer love for their music, it's hard to pick a favorite between the two version of "The Witch" that appear on this album. So, I say just kick back, enjoy the tunes, and indulge in them both. I'll give both albums an A+.