Sugarbuzz
Sugarbuzz (ReadyFireAim Records)
By: Alex Steininger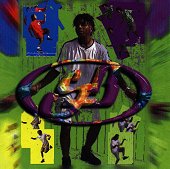 If you're looking for that dance groove, funk-heavy, soul-laced sound, then you've found it. Sugarbuzz has a message, such as "Kids (are cruel)," which talks about the time their lead singer got beat up by cops because he was black. But they've also got a happy-go-lucky sound that will make you hit the dance floor, shake your butt, and just have a good time.

Their singer adds a rap 'n' roll edge to the music, as does the instrumentation. They play around with rap and hardcore here and there, often fusing rap with funk. But when all is said and done, they kick out the funk over and over again. The female guest vocals they invite on the disc help add a soul touch to the sound, which lightens it up even more. And the outcome is an album that is dance heavy, beat happy, and simply an inspiration to dance.

"We want our music to leave you happy," states the CD booklet. And, guess what? That's exactly what the band does. The soul and dance groove is too strong to allow you to get hung up on the political aspects of the album. You'll forge right past all of that and just dance. I'll give this album a C.