TNT
Transistor (Spitfire Records)
By: Alex Steininger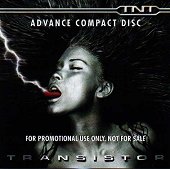 Selling half a million records a piece with their three releases in the 80's, TNT, and the rest of the hard rock genre, died in '92. Reforming and releasing a "warm-up record" in '97, TNT is back with their latest, TRANSISTOR. And like all the other 80's rockers making a comeback, TNT are softer, more melodic, and focusing on pop (ie. they've matured as a band, as some would like you to believe). I don't buy this though.

To me, this album is a metal-gone-pop record that stinks as much as all the other metal bands material did when they tried to go light and recapture the fan base they had during their prime. The hooks are weak, or not there at all, and the drive is mediocre at best. The intensity and carefree, "I don't give a fuck" nature of the 80's arena bands are gone, and as they try to re-invent themselves for the new shape of music, it just doesn't work. They fall flat on their face, much like TNT does on this album.

They may have matured as people, and have a different take on life, but it doesn't show in their music. They come across like another novelty act on the scene, throwing their sound at the wall [record buying public] to see if it sticks, and if it doesn't, they'll fade into oblivion again. Let's hope so...I'll give this album a D.