Uriah Heep
Sonic Origami (Spitfire Records)
By: Alex Steininger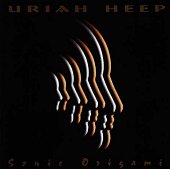 In this day and age it is a miracle to last five years, let alone thirty. But, Uriah Heep is proof that a band can withstand time and keep renewing themselves with each album. Starting out with as a hard rock band, their latest offering shows them mixing pop-rock with an 80's arena fury.

The album has some good stuff on it, like the melancholy-goes-happiness of "Heartless Land," which possesses a very uplifting, spiritual feel in it's acoustic pop bass. "Question," "Shelter From the Rain," and even the cheesy arena rocker "Everything In Life" all seem to have a sweet, melodic quality to them which capture your attention and keep you listening. The first three continue on with the light, delicate feel of "Heartless Land," while "Everything In Life" allows the band to put back on their rocking shoes and go crazy.

After reading the bio and looking at the press shot, I admit I was expecting washed up guys trying to relive their youth with some poor excuse for 80's arena rock metal. But, that isn't even close to what this album is about. This album is as much fun as it is a spiritual journey for the listener (and the artists singing). It is worth a listen if you're a fan, and if you're not, give it one too, you might just be surprised. I'll give it a B.