VARIOUS ARTISTS
Black Jacket Racket -- Volume 2 (Skully Records)
By: Alex Steininger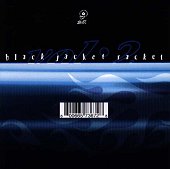 Volume one of Black Jacket Racket was amazing, featuring some of the best in the psychobilly, rockabilly, and punkabilly bands throughout the world. But, as is common, sequels rarely live up to the expectations put upon them when the debut was so grand (and volume one was great, I loved it). Though volume 2 doesn't come close to volume one's impact, it still helps shape the rockabilly scene with some great dance rock 'n' roll sure to let the greaser in you run free.

Australia's The Satellites light up the night with "16 Days," a slow and steady rockabilly number with all the right moves. The US' Barnyard Ballers serve up some tongue-in-cheek psychobilly on "Dangerous Man." Their sound is that of a bunch of drunk hicks from the outskirts of town getting together to play rock 'n', getting pretty shitfaced before they pick up their instruments, and just letting loose as the music speaks for itself. "Dangerous" may just be the word to describe this band.

Hillbilly Hellcats' "Double Time" also proves rockabilly is alive and well in the United States. Their crazy punk drive helps push the song to the limits, while the rhythm section makes sure plenty of dance moves are to be had. Same goes for Sweden's The Outdoorsters on "Hillybilly Party." Not only do they have the rockabilly down, but they've also got some good old 60's pop running through their bloods. The keyboards lead the way with some swinging beats while the rhythm section keeps your feet busy with some slippery rock 'n' roll.

Canada's The Deadcats' "Goin' Down To Memphis" is another good, clean rockabilly cut sure to knock you down on the dance floor while your moving like crazy to it. Matter of fact, all eighteen bands on here have some good aspects to them. Sure, not every band blows you away, but they try their hardest, and that's worth your time. The recording quality varies drastically between band to band, but the strong music, regardless of recording quality, will always prevail. I won't lie, there are some duds on here, but the majority is just good fun to be had. I'll give this album a B+.