SHOW REVIEW: Cravedog Records Family Picnic
A Two-Day Celebration With Some of the Northwest's Best Roots Rock/Country Acts (Cravedog Records)
By: Alex Steininger



When local independent label owner Todd Crosby throws a festival, it is not only a celebration of music, but also a comfortable party that spans two days and never lets go. At least, that is the case with his annual Cravedog Records Family Picnic. With Northwest favorites like Federale, Richmond Fontaine, 44 Long, The Baseboard Heaters, Chris Stills, Little Sue, Fernando, Jerry Joseph and the Jack Mormons, and Kerosene Dream, you know the music is going to be right on the mark, and when that happens, everything else falls into place.

As I headed to Horning's Hideout to check out this two-day event, the clouds started to form and rain seemed inevitable. The weather people were predicting rain and it seemed like camping wasn't the greatest thing to do. However, like I said, with music this strong nothing was going to stop anyone (my friend and I included) from having a blast this weekend.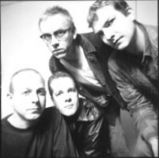 We got to the campsite, moved the van to our camp area, and started to put up our tent. We snaked on some food and just sat there talking while absorbing the atmosphere. After a few hours of just relaxing, it was time for 44 Long to hit the stage, so we made our way up the trail and to the stage so we could hear Brian Berg cranking out some of the best A&M pop gone roots rock you'll ever hear. Their latest album, INSIDE THE HORSE'S HEAD, is nothing short of spectacular, so 44 Long's music was the perfect way to get into the swing of things.
Not a lot of people down at the stage due to the weather, but that didn't stop the band from rocking out and putting on one hell of a performance. It was still early (3pm), but 44 Long played like they were at the top of their game, moving around, bouncing, and hitting all the notes with humor and a big dose of fun running through everything.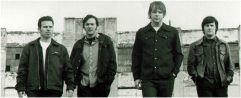 The Baseboard Heaters were up next, so I decided to stay put and check out what all the buzz was about. They were some good, solid country-rock with pop sensibilities, and sure gave the few people out around the stage some great tunes to relax too while everyone still seemed worried about the weather.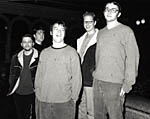 Lael Leroy and The Loved, who were recently dropped from Geffen, came on while the skies were getting a bit darker. As such, people were either moseying their way into the camp ground and making their way down to the stage or they were just now leaving their tent, realizing that the music could overpower any fears of rain and that they were there to have a great time, despite any setbacks, so to the stage they would go.
Playing some gusty pop-rock with heart and emotion, Lael Leroy and The Loved's hammering rhythm section and beautifully crafted pop hooks were too bouncy and fun to ignore, so even more people started to pour into the stage area to hear the music and start to feel the vibes they'd come for.

Chris Stills (who is the son of the Stills part of Crosby, Stills and Nash) came on at 6pm and by this time people were really getting into the swing of things, disregarding the weather and just coming out of the woodwork to have a blast. If rock was what the crowd wanted this evening, Chris Stills was sure to give it to them. Pouring out some pop-rock with plenty of energy and spark, he got the crowd up and dancing. As the weather started to clear up and turn into night, the part was igniting and everyone was smiling and having a blast.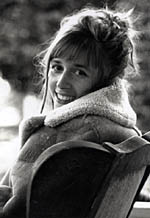 After Chris Stills I decided to take a break and go walk around and 'explore' the beautiful surroundings of which were all around us -- trees, nature trails, and just beautiful landscape. I came back in time to see Little Sue hitting the stage and light up the night sky, as well as the faces of everyone watching, enjoying, and dancing to her music. Full-on country with plenty of pop hidden underneath the initial country skin, Little Sue's voice is as sweet as honey. One of the hottest performers at the festival, her set was quite impressive and turned quite a few heads. Of course, with a gal this talented, and so well-received wherever she plays, a lot of it was preaching to the converted.
Next was the man of the evening and, quite possibly, the entire festival, Fernando. The name of the frontman and the name of the band, Fernando's roots-rock/Spanish-rock/pop hybrid has been the talk of the town for quite a few years, but just recently, with the release of his latest, OLD MAN MOTEL (Cravedog Records), has he began to receive attention from majors coast to coast. The man is hot and everyone who's ever heard him can't deny the power and strength of his music.

Everyone packed the stage as Fernando busted through some of the best rock 'n' roll you're likely to hear. He can sing in Spanish, jump into a Beatles-esqe pop number, and then get you back into the garage rock of the 60's and 70's without blinking his eye. The man's music is an ethnic melting pot of every flavor and style he's ever loved, and with so much diversity, you're hard-pressed not to find at least one song that will make your jaw drop and proclaim Fernando as one of the songwriters who will definitely make an impact in the new millennium.
Of course, it was evident everyone felt this was as the dancing and singing along kept going number after number. And, after a set that could make even the greatest rockers humble, Fernando came out for an encore to quiet the roar of the crowd and give them more of what they wanted.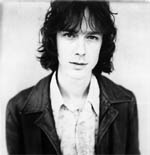 For me, after Fernando the evening was over, at least musically. Pete Droge was up next, but it was time for me to go back to the camp site, eat some food, and just sit in amazement at the power that is Fernando.
The next day the sky was perfect and the weather was what we had hoped it would be the whole way through. And even though the previous day had been a bit damp, it didn't dampen the spirits of anyone -- or the music, for that matter. Now that it was clear out and a beautiful day, there was no question tonight was going to be another fiery party.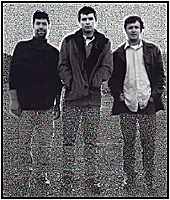 Hanging out with friends and just taking it easy, it wasn't until 4pm, when Richmond Fontaine hit the stage, that I made my way to the music. This band can play in front of the indie rock crowds, alt-country/No Depression'ers, and the punk rockers. They're a jack-of-all-trades when it comes to rock 'n' roll, and they play it so well, no matter what environment you find them in, there will always be someone singing along.
Playing material from their previous two full-lengths, as well as new songs from their upcoming full-length (due out in October), Richmond Fontaine, led by the guitar and voice of Willy Vlautin and the bass skills of Dave Harding, captured the energy of the previous night and got the rock 'n' roll swimming in my blood again. The addition of an organ to some of their songs helped bring them even more to life, and Willy's lyrics and voice were there to bleed in your heart, making you feel the impact of other's lives on everyone else's, as well as the importance to be true to yourself and never forget what life around you is really like.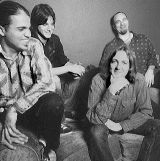 Next up was Federale, featuring the amazingly talented Luther Russell, as well as ex-Black Crowes members. Luther Russell is truly the man around town that can do it all. The iron made not only played drums and guitar with a few other musicians throughout this festival, but he's also quite the producer (producing Richmond Fontaine's forthcoming album as well as other talent throughout the area). Plus, he creates his own music, which is nothing short of spectacular. Simply put, the man is not only kind and easy-going, and a great person to just sit and talk with, but he is also one of Portland's richest resources. His talent will be felt throughout Portland as long as he remains an active participant on the scene, which, I hope, is a very, very long time.
His band, Federale, who are signed to Interscope Records, had to be one of the shining moments of the festival. Being my first time seeing them live, I couldn't take my eyes away from them. To find someone as talented as Luther is quite hard, but to find a band that is just as talented, and one that can write just as amazing songs, is quite the catch. And Federale proved to be just that. Their rock 'n' roll was straight from the heart; it hit you right in the gut and made you fall in love over and over again.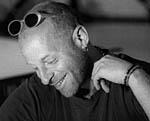 After Federale I had to take a break. Their set was so steamy and rocking I wouldn't have wanted to go after them, let alone have to sit through a band after they had just rocked the crowd over and over again. So, I went for another nature walk until Jerry Joseph and the Jack Mormons hit the stage.
Tales of drug abuse, life in the gutter, and ways to clean yourself up and get your life back in order, Jerry Joseph has lived it all and sings about it in such a way as to put you in his shoes for a short period of time while you shake and quiver at the pain and tragedy he's had to endure. Though, you smile at the results: good natured, pure, honest rock-folk that touches you and makes you feel as if there is someone out there who has been through pains, like or unlike yours, and can relate to you in your time of need.

Joined by Luther Russell, Jerry Joseph and his Jack Mormons kept the rock coming. They didn't hold back any punches as they kept the ball rolling; line after line, word after word, the music combined with the lyrics for maximum impact. If you weren't shaken or taken back by the honesty and power of Jerry Joseph or Federale, or the entire festival for that matter, there is something wrong with you.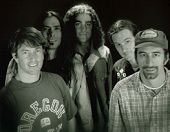 After Jerry Joseph and the Jack Mormons, I once again went back to the camp site to grab a bite to eat, sit back, and fully digest the great music I had just heard. There was still Kerosene Dream's music pouring in the background, but with Richmond Fontaine, Federale, and Jerry Joseph's sets under my belt, their energy and power had gave me all the rock 'n' roll I needed for quite some time.
After sitting there for a while and meeting back up with my friend, it was time to go home. But, the lasting impression of bands like Federale, 44 Long, Jerry Joseph and the Jack Mormons, Little Sue, Fernando, Richmond Fontaine, and Chris Stills were so strong, this is one event that will be hard to top or to knock out of my memory. At least, until next year when Todd Crosby once again spins heads, gives music fans the summer's best treat, and makes my jaw drop once again with the blistering sounds of great band after great band.