Tilt
Viewers Like You (Fat Wreck Chords)
By: Alex Steininger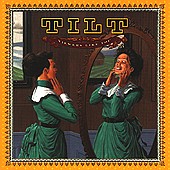 On their third full-length, VIEWERS LIKE YOU, Berkeley's Tilt take the standard Fat Wreck Chords pop-punk platform and spunk it up with some nice female vocals. Cinder Block, the frontwoman for the band, is audacious, loud, and anti-feminine in every way. She is the most ferocious punk frontwoman playing the Southern California pop-punk scene right now.

"Annie Segall" starts off soft but soon blasts off into the standard pop-punk you'd expect from a Fat Wreck Chord bands. The thing that sets them apart is the social-political lyrics Cinder Block spits out with her venomous voice; full of spite, anger, and a nasty bite sure to rip right through you, her voice is quite possibly more powerful than the roar of the guitar throughout the album.

"Pontiac" is another pop-punk blast of air that will shoot right past you with a snarling guitar and eye-popping drumbeats. Then there is the title track; another pop-punk number with the same elements as before, but the melodic sense and sugar coated beats will always win you over.

"Mama's Little Man" is a rock-tinted Dixieland number with all too real lines like "Mama's little man is a member of the Klan/ He'll goosestep 'round a burnin' cross and kick you in the shin/ Mama's little man is a member of the Klan/ Sucking on a lollypop with mein kampf in his hand." The lyrics take a comical view at the jokes that believe they're born of the "master race," as it should, but with the recent L.A. shooting the seriousness of this song strikes you in the gut and brings tears to your eyes.

Tilt definitely have the Fat Wreck Chords sound; but, with the aggressive spirit of Cinder Block, and her venom-dripping lyrics, as well as the band's political stance, the CD is able to shine and really hook you. Here is some catchy pop-punk that will be bouncing around in your head for quite some time. I'll give it a B+.