Dream City Film Club
In The Cold Light of Morning (Beggars Banquet)
By: Alex Steininger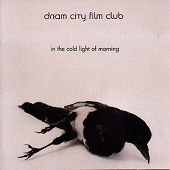 Describing Dream City Film Club is, quite possibly, one of the hardest tasks a music journalist will come across. They're sonically their own; to try to describe them by crossing other bands' sounds is pure sloppy journalism. The same holds true if you try to label them. But, to give you an idea of what they sound like, I'll attempt to go against what I just wrote and pigeonhole them with some off-the-wall combination of titles. How about "trashy, moon lit rock 'n' roll that is sassy and sweet, perverted and fucked up, while remaining brutally blunt and in-your-face"? How does that sound?

Well, with titles like "God Will Punish the Pervert Preacher," "Fuck It Up," and "Killer Blow," you know that the music is coming from a place that is twisted and bent, but all too realistic. Imagine walking under the moonlight with your lover, passion running wild, while good and evil battle it out on your shoulder to be the voice inside your head that will control you for that moment. This is the imagery that Dream City Film Club will ignite in your head.

From slow to schizophrenic, the music travels leaps and bounds track to track, often leaving you in a delirious state of mind. Trying to label the band is like trying to predict how their music will develop from track to track, or even throughout the same song. This is one album you need to truly understand to enjoy, which I didn't the first few times I heard it, but now it is all coming to me. I'll give it an A-.