Jimmy Johnson
Every Road Ends Somewhere (Ruf Records)
By: Alex Steininger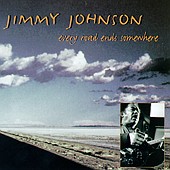 Grammy Award nominated guitar play and vocalist Jimmy Johnson has been around the block more than once when Blues music is concerned. A professional musician since the late fifties, his catalog includes soul, R&B, and blues music. Now, on his latest solo effort, he throws them all into a smoky record that encompasses his life as a musician.

"Roots of All Evil" is a funk-driven blues number that is as hot and smoky as it is clear and precise. It has all the steam it needs to push itself on to the listener and light up your mind with soulful, gutsy sounds that speaks straight from the heart via various instruments.

"The Street You Live On," though, is not rooted in blues or funk. Rather, it derives all of its tremendous energy from the soul sound. Jimmy Johnson's voice is still smoky and rich, but at the same time comforting. His effortlessly soothing voice glides over the music with ease while the music just as effortlessly seems to pour from your speakers straight into your ears.

"Black Night" brings you deep into the blues sounds of Jimmy Johnson. Deep, groove-filled riffs float through the song while his voice tops off everything with a silky richness. The light percussion helps keep the vibrant sound alive while furthering the easy-going nature of everything. This is an edgy blues song that isn't afraid to be sensitive, much like the majority of this album.

"Cut You Loose" and "End of the Road" are two different blues numbers, though both are rooted in the blues. The first fuses blues and funk once again while the latter runs forward with some pounding, dance-able rock 'n' roll sure to get your toes tappin', soul moving, and body shaking.

This is an album you can feel. Whether it is his guitar or his voice, or the supporting band's ability to lay down soothing rhythms and tremendous horn lines, every note makes you feel something. What you feel is up to you. But, rest assured, you'll feel something. I'll give this album an A-.