Anti-Heros
Undearneath The Underground (GMM Records)
By: Alex Steininger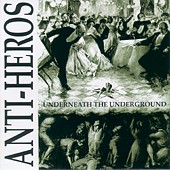 To maintain yourself for fifteen years without going the way of the dinosaur (as so many bands half their age have already) is a goal in itself. But, for Anti-Heros, it's just another chance to release a strong, punk/oi! album to the fans of street punk and get their asses on the road to support it. Produced by Lars Frederiksen, UNDERNEATH THE UNDERGROUND is politically charged with plenty of aggression, contempt, and anger to make it as potent as possible.

"More Stupid Than Stupid" rips through you with everything it's got. The fierce guitars, snotty vocals, and relentless rhythm section spit out punk mayhem so rough around the edges it cuts you every chance it gets. "I'm True" shows why this band has maintained themselves for all these years: they can rock and kick ass like its nobody's business. The vocals are right on the mark with their snotty, confrontational approach, the perfect front for the reckless abuse the music injects in you while you're listening to it. "Red and White and Black and Blue," "Rich People Don't Go To Jail," and "World War 1.3" show the band's commitment too not only being as brutal as possible musically, but lyrically too. They know how to get in society's face and tear it down limb by limb.

Lars' production helped bring this album to life, but it was the band's energy and pure adrenaline-addicted punk rock idealism that took them to the level at which this album operates. It kicks your ass over and over again and doesn't even care. I'll give it a B+.