Bombshell Rocks
Street Art Gallery (Epitaph Records)
By: Alex Steininger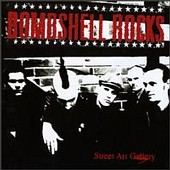 Sweden's punk rock combo, Bombshell Rocks, unleash themselves upon an American audience with STREET ART GALLERY, their debut album. Chalk full of punk rock excitement, this band takes early Rancid, The Business, and early street punk in general to an exciting high as we reach the new millennium. Of course punk isn't dead, and bands like Bombshell Rocks prove it throughout these twelve tracks of fury.

"Microphone" kicks your ass and throws you up against the wall with some of the best, hardest hitting rhythms as of late. Explosive, dynamic, and potently wicked, "1.80 Down," "Bad Feelings," "Joker in the Pack," and "White City Walls" all pack the tremendous punch that makes this band the spirited punk rock combo they are. When they unleash, they unleash it all and don't hold back any punches, as other cuts like "Out of Order," "Same Streets," and "Bright Spot" will gladly support. Whether its the razor sharp guitars, the slight growl of the vocals, or the dual sensation of the bass and the drums, the band knows how to just jump into the music and get you doing the same in no time.

Epitaph and Burning Heart's relationship has proven fruitful once again. The partnership that brought Millencolin to the states does it again with Bombshell Rocks. Here is punk rock 2000 with all the street smarts of the classic stuff without giving up the crisp, fresh modern air it breathes throughout. I'll give it an A-.