One Way System
Waiting For Zero (GMM Records)
By: Alex Steininger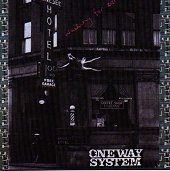 From the seaside slums of Blackpool, England, One Way System, along with a handful of other bands like the Exploited, expressed their dissatisfaction with the desperation of working class urban life in Thatcher's England. But, they eventually self-destructed and called it quits. Now they're back, with their first full-length in ten years. And time hasn't mellowed them one bit.

"Real Me" blats through with some straight-ahead street punk. The guitars are loud, sharp, and fierce, while the rhythm section hammer away at everything, going for broke and gaining momentum beat after beat. "Search Your Soul" spits out the same aggression as the opener; the vocals growl and groan with spite while the band backs them up with intense passion. Other cuts like "Reality TV," "Shut Up," "Guilty," "Backshine," and "Rise To Flame" all continue on in the same vain with intense, politically driven street punk sure to get you off your ass and up and moving. Music this intense can't just be listened to, it needs a reaction.

Unlike rockers and punkers alike who've mellowed out in the past decade and gave up their love for punk (at least their love for touring and recording new punk songs themselves), One Way System jump back on the horse like they never got off. This is street punk at its pinnacle; I'll give it a B+.