Happy Texas
Music From The Miramax Motion Picture (Arista Nashville)
By: Alex Steininger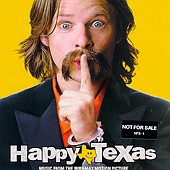 Here's the story line: Two escaped prisoners, Harry Sawyer (Jeremy Northam) and Wayne Wayne Wayne, Jr. (Steve Zahn), whose only hope to evade the law is to assume the identity of a gay couple who put on kiddie beauty pageants in a little town called Happy, Texas (and yes, there really is a Happy, Texas). The two quickly discover that the local bank is ripe for the picking and that the town's two most eligible women (Ally Walker and Illena Douglas) are desperate for a little excitement. And from there, the laughs are born.

Now, I haven't seen the movie, but the bio tells me all the songs used on the soundtrack are actually in the movie, which seems to be a rare occurrence as of late. Randy Scruggs and Joan Osborne kick it off with a stompin', roadhouse rocking, rubber-burning go-getter by the name of "Passin' Thru." From there, Emmylou Harris' "Ordinary Heart" takes us down with a tender, very gentle country ballad while Alison Krauss' "Stay," also a very gentle, subtle number, warms are hearts and gives off both an essence of happiness and optimism. Then there is BR5-49's "Honky Tonk Song," which makes you want to put on the studs, hit the local country bar, and square dance.

There are many other artists on the soundtrack like Lee Roy Parnell with Keb' Mo', Flaco Jimenez, Pam Tillis, Shannon Brown, and The Road Kings who all put in solid tracks that make you want to check out the movie. Heck, I even want to see the movie just from reading the bio and hearing the soundtrack, as it seems to be a comedy, but with some of these love ballads in here, could be a hilarious, optimistic film with an underlined romantic theme. I'll give it a B+.