Muse
Showbiz (Maverick Recording Company)
By: Alex Steininger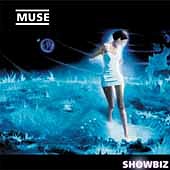 A three-piece from a small coastal town in Teignmouth, Devon in the south of England (250 miles from the center of London) Muse was born. Playing music together since the age of 13 (and going through numerous name changes before deciding on Muse), these guys fought the boredom of small town life by expressing themselves through their music. Shying away from Blur and Oasis and moving towards Nirvana, Tom Waits, and Radiohead, these three young men have the right influences, and it shows in their savvy, guitar-driven pop sound.

"Sunburn" is both delicate and fierce; the razor sharp guitars mixed with the piano and vocals help give it two very different, very distinct sides that are able to shine during parts of the song and work together during others. "Fillip" is a driving pop song that mixes the Radiohead-esque vocals with more sharp guitars and a hard-hitting rhythm section. "Cave" is another aggressive rocker that still allows its pop influences to shine through and lead the way. "Uno," "Sober," and "Hate This & I'll Love You" are other selections that showcase the hard rocking attitude these guys have without giving up on the pop that is the focal point of their sound.

Though they often sound like their influences (especially Radiohead), that comes with youth. As they develop, tour, and record more songs, I'm sure they'll come into their own. Until then, this is a good album, regardless of who they sound like. I'll give it a B.