No. 2
No Memory (Chainsaw Records)
By: Alex Steininger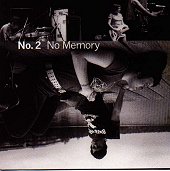 No. 2 is one of those bands that has such a strong pedigree of musicians who were in all your favorite bands of the past that you don't know what to expect. Sure, your expectations are high, but there is always that part of you that knows you're going to compare them to their previous projects and be let down when they don't instantly hit you the way the other band(s) did.

Frontman Neil Gust was the rock pulse of the loud Heatmiser, a band that also featured Oscar-nominee Elliott Smith. Bassist Gilly Ann Hanner was the frontwoman for bands like Calamity Jane and Starpower, two Northwest favorites, with Calamity Jane even touring with Nirvana. Then there is drummer Paul Pulvirenti who backs Elliott Smith on his tours and the man who handled percussion for Portland, Oregon's dynamic pop act Jr. High.

As you can see, all three members have quite the history. And it's tough to sit down and try to listen to this album without thinking and dwelling on the fact that they were in those other acts. Fortunately though, No. 2 manages to escape this plague after a few listens as you quickly grow familiar and pleased with their debut record, NO MEMORY.

"Critical Mass," the album opener, quickly establishes this band as an intense, pop-driven act that has their rock chops in tact, sweet harmonies placed throughout, and a knack for melodic, infectious beats. Gust's guitars are razor sharp, yet his voice is tender and somewhat uncertain; Pulvirenti's non-stop, bulls-eye beats are powerful and danceable; and Gilly Ann Hanner's bass boosts everything with steady, confident notes that give the music the depth it needs to drill its way into your head. Then there is Hanner's sweet, intoxicating voice that is as beautiful as the sun in the morning and twice as hot.

"So Long," a fragile, heart-on-the-sleeve pop punch shows the tender side of the band without giving up any of the fierce rock bite that makes them so enjoyable. During the chorus, Gust's voice sounds shaking when he says," I've never felt more helpless when you say you're gone/ Close your eyes and try to see/ Don't say so long." Yet, the melodic, poppy music, with Pulvirenti's rock beats, ensures you're never weeping or feeling sleepy yourself.

Then there is "Pop in C." Not as rocket-charged as some of their other songs, the band proves they can go slow and still be tremendous. Hanner's sweet harmonies swim around in your head while Gust's soft-spoken voice travels through solid lyric writing that won't leave you unsatisfied.

"Nobody's Satisfied," the definitive rocker of this album shows the band at their sweatiest. Ripping through driving pop melodies, the band lets it be known that pop bands can rock just as hard as say, "rock" bands; even harder, in a lot of cases. And, not only do they rock out, but they never leave their pop-minded songwriting skills and ensure the listener will be bopping around and feeding off the tasty hooks found throughout.

Parting with a folky-pop number by the name of "Parting Kiss," Gust once again wears his heart on his sleeve as he walks through a memory of meeting a guy that he wants to hook up with. But knows after all is said and done, he'll quickly forget him. Hanner once again shines with her beautiful, sweet backing vocals, while Pulvirenti keeps the beat solid and steady. Of course, Gust leads the way and does a damn fine job of it.

No. 2's debut is solid. It contains everything a great pop record should: great songwriting, sweet harmonies, and infectious melodies you won't soon forget. If there were any shadows of doubt cast upon Neil Gust regarding his involvement in the songwriting process with his former band mate, this album will erase them. He proves he is a competent, solid songwriter who knows how to write and construct a good pop song. I'll give it an A+.