Oneida
Enemy Hogs (Turnbuckle Records)
By: Alex Steininger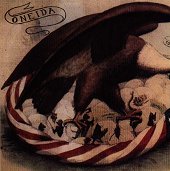 Hard to describe is the only way to describe Oneida. I can't seem to put words to their sound, though I'm going to try right now: it's rock 'n' roll with a lot of noise, a lot of distortion, and quirky side trips along the way. It's loud, abrasive, wicked, and non-conventional in every way.

Take "Turn It Up (Loud)" for instance, which adds strings and the Grace Church Boys' Choir to the usual, paranoid rock in the beginning. From there though, the song takes a dive, because what the boys' choir accomplishes at the beginning - contrasting the loud with the soft and the corrupted with the innocence - the band is unable to do when either tackling the chorus themselves or when singing along (or should I say screaming along?) with the choir.

"Bombay Fraud" is another song that shows the experimental side of the band. They take their standard, distorted rock foundation and add a trumpet to it. It manages to shake things up and add a different tingle to the song, but the fact still remains the heavy, swirling rock is the focal point. And it just doesn't really grab your attention.

The band has the soul, the experimental mindset, and the warped sense of reality to really create a messed up, mind-tripping album that plays with your head. They seem to be able to do that somewhat on this album, but nothing every hits you at full blast. Its a decent album, but doesn't make any bold statement any which way. I'll give it a C.