Marty Robbins
Gunfighter Ballads and Trail Songs (Legacy/Columbia)
By: Alex Steininger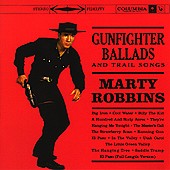 Best known for his story-songs of the West, GUNFIGHTER BALLADS AND TRAIL SONGS, his best-selling album, is being re-released with new photographs, liner notes, and digital 20-bit re-mastering to bring the sound to life.

Recorded in 1959, this still has to be one of the best country albums ever released. "Big Iron" is a campfire story you'll hear more than once with a guitar accompanying, and one you'll find yourself singing along with, while the love ballad "They're Hanging Me Tonight" will have you sitting down and tears as you feel every word sung. Of course, "Billy The Kid," will have you daydreaming and imagining life in the Old West as Marty Robbins's storytelling voice clearly depicts the legend of Billy the Kid.

"The Strawberry Roan," "Running Gun," and "In The Valley" will all have you singing along as Marty's smooth voice and kind-hearted guitar trickle through your body and warm you up from the inside out. But, don't pass up on "El Paso," both the single and the full-length version. The love ballad will have you falling in love with the music, Marty Robbins, and the characters that are portrayed in the song all over again (or for the first time). Bonus cuts "The Hanging Tree" and "Saddle Tramp," not to mention "El Paso (full-length version)," offer up something not found on the original, making this re-release that much more treasure-able.

Country music has gone down the tubes as of late. It isn't soulful, it isn't blue collar, and it isn't pure. It's corporate pop music with a Nashville feel that is passed off as country. But, if everyone owned this album and listened to it daily, reminding themselves why country music was original loved in the first place, then they could never get away with it. Here is country music like it was meant to be; I'll give it an A+.