Blue Meanies
Kiss Your Ass Goodbye! (Asian Man Records)
By: Alex Steininger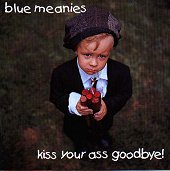 Chicago's infamous ska-punk-funk-jazz-carnival-punk act, the Blue Meanies, KISS YOUR ASS GOODBYE!, an album almost as infamous as the band is now being re-released by Asian Man Records. Originally released on Chicago's Fuse Records, a long time has elapsed since this baby went out of print. And, as the band's fan base grows, so has the demand for this. Hence, the re-release.

All the original artwork and the original music should help please the Blue Meanies fans that don't own this one. "Acceleration 5000," a classic Blue Meanies song, packs all the energy and sweat of their live show into a bouncy, punky, driven number that rolls right over you without thinking twice.

Of course, the highlight of this album is, and always has been, "Grandma Shampoo," the song Billy Spunke wrote about putting his dead grandparents ashes in his shampoo bottle. A live staple for a long time, it never sounded so good. Of course, "Vote No," "American Superhero," "Polka In the Eye," and "The Shit Fuck Man" all deserve honorable mentions.

It's been four years since I listened to this album. Hearing the re-release reminded me how much I love this album and why I started going to Blue Meanies shows and listening to them in the first place. This band can't be caged, and this album is proof of it. Wild, uncontrollable, and liable to blow up in your face at any time, here is an album of a band that just refuses to be pigeonholed. Call them ska, call them punk, or call them shit. Just call them. I'll give this a B+.