Five Pointe 0
Five Pointe 0 (Five Pointe 0)
By: Alex Steininger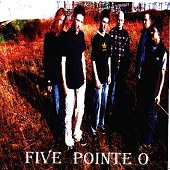 A Chicago-based six-piece outfit, Five Pointe 0 plays groove-filled hardcore with plenty of youthful aggressive, spirit, and attitude. With the band members ranging in age from seventeen to twenty-five, the roots are sprouting, but there is still plenty to be nurtured.

This four song CD shows a lot of promise as well as the youthfulness and immaturity of a new band that will dissolve as it grows and develops together. "King of the Hill" possesses plenty of grooves and power to really strike a chord with fans of hardcore, hard rock, and metal. "Waiting To Fall," on the other hand, has the sharp guitars, thundering beats, and heaviness that metal fans jump right into.

Though there is a lot of promise here, there is still a lot to improve on. The band needs to grow tighter as a unit, as I'm sure they're aware of. But, the foundation they have begun to build for themselves is a great place to start. This disc packs a punch that can land on fans of hardcore and metal. I'll give it a C-.