Tanger
Tanger (Owned & Operated)
By: Alex Steininger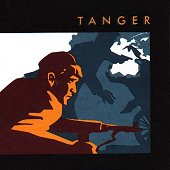 A three-piece hardcore-shouting punk rock trio from Fort Collins, Colorado, Tanger (pronounced 'Tan-jer') play with an intensity and drive matched by few. But, the lack of melody and a really strong beat quickly loses your interest. More empowered by playing loud and ripping through their audiences' ear drums, the band seems to lose themselves in their own noise, opting to play heavy, hard, and loud rather than tight and with some melody.

Though songs like "Six Feet" and "Half Full" have a good sized portion of melody breathing through the oozing aggression that soars throughout the songs, they still trap themselves in the noise and screaming the band is all about, once again losing all that might be good. They're not a bad band if you like the hard-hitting, shit-kicking, piss-filled venom that spews out from every angle of the songs. But, if you like your punk with a bit more consistency and tightly-packed blows, you're out of luck here.

I tried and tried to like it, but the screaming and overly loud demeanor of the album just kept me from enjoying it every time. There is a lot of venom and spite here for those that need it, but, of course, that sort of thing is available in other punk bands that are a lot more melodic and driven by the song and not the noise. I'll give this album a D.