Jonah's onelinedrawing
Sketchy EP #1 (Crank!)
By: Alex Steininger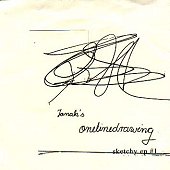 Jonah Matranga, former lead singer/songwriter for Immortal/Epic Recording Artists' Far, has a new project: Jonah's onelinedrawing. Mixing big pop hooks into an indie rock package, the intimate sounds of onelinedrawing are emotional and touching, reaching a place deep inside of you and finding a comfortable place to rest. Still as powerful as Far, but in a different way, instead of big guitars and loud rock, Jonah gets the point across with a quieter, singer-songwriter style.

I'm not the biggest fan of EP's, and even EP's I love get heavy play at first, and then grow old quickly. But, every once in a while there comes an EP so potent and powerful, so addictive and satisfying, and so insightful that I can't stop listening to it. Jonah's onelinedrawing is one of those EP's.

"Better Than This," the first of six songs, is a jangly pop ditty that gets stuck in your head and just won't get out. But, it is also so much more than just a jangly pop song; it has substance and well-written lyrics, giving it staying power. Jonah's voice is tender and hesitant, but through reassuring lyrics he seems to succeed throughout the struggle (read: the song) to convince both himself and his listeners that he'll be OK and will "get through it". Of course, through reassuring himself, he does the same for the listeners, injecting a positive, confident vibe throughout the song.

"15,000" continues with the hesitant struggle between Jonah's voice and the bright, uplifting pop he is dabbling in. Not as bouncy as the opener, the faint percussion keeps the beat steady, while Jonah's voice leads the song over the trembling of the guitar. "Aeroplanes," on the other hand, finds a more centered, confident Jonah reminiscing on the past and looking forward to the future. The quiet, yet bouncy pop returns as the bass and especially the drums are turned up a notch, injecting more vigor and life into the song.

"Breathless" is a guitar-centered singer-songwriter number while "14 to 41" once again puts the full band arrangement on the infectious pop Jonah creates. Ending with "Tides," Jonah ends with a faint, tender singer-songwriter number sure to get you misty-eyed, if not at least listening attentively to everything the song has to say.

Jonah's onelinedrawing is clever, articulate pop music that should have no problem finding an audience beyond his die-hard fan base. The songs are smart, powerful, and very intriguing. One listen and you're hooked; there's just no going back. I'll give it an A.