Tonic
Sugar (Universal Records)
By: Alex Steininger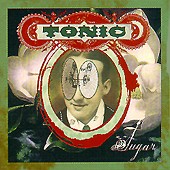 With the most-played rock track of 1997 (according to Billboard ), "If you Could Only See" helped propel Tonic's debut, LEMON PARADE, to platinum status. Now, on their sophomore album the pop-rockers try to repeat the success of their debut with glossily produced modern rock that incorporates folk and pop influences.

Helping them to once again reach platinum status, and not fall prey to the 'sophomore slump' so many one hit wonders jump into and never come out of are songs like "You Wanted More," the first single off of the American Pie Soundtrack, "Knock Down Walls," the first single off of this album, "Sunflower," and "Drag Me Down." "You Wanted More" possesses a twisting, repetitive guitar riff that drills its way into your head and quickly finds you dancing too it. "Knock Down Walls" fuses a pounding beat via the rhythm section with a razor sharp guitar and well-written lyrics that quickly hook you in and get you going.

"Drag Me Down" takes on a similar approach, tackling the modern rock sound with a pop-rock mind, giving the song a tremendously loud sound, while still leaving a tender side exposed. Then there is "Sunflower," a bit softer, gentler Tonic, but with the same power backing it up.

The album has its duds and modern rock victims, but it also has its moments, like the above-mentioned four songs. There are some strong pop nuggets that stand out, though the better majority of the songs are lackluster. But, still, the songs that stand out manage to shine and deserve a listen. I'll give the album a C+.