Zen Guerrilla
Trance States Tongues (Sub Pop)
By: Alex Steininger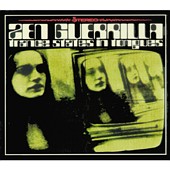 Wild, ass-kicking, flamboyant rock 'n' roll with no pretensions and their only goal to have fun and bring people into their world, Zen Guerrilla's latest is a testament to the fact that rock 'n' roll isn't dead. The proof lies in the twelve tracks on this disc, which combine the blues, gospel, and R&B under a bed of guitars and slamming rhythms.

"What I Got" and "Cold Duck" take blues songs, amp them up, and then add the fire to them to create burning rock 'n' roll numbers that don't seem to be going out any time soon. Opener "Pins and Needles" further lays proof that the styles that influenced rock can indeed be influenced by their offspring and create a bastard child that just wants to reek havoc. And that's exactly what happens throughout. Other numbers like "Ghetto City Version" and the soulful, but still heavily distorted "Magpie" are a display of the band's ability to be quite diverse, while covering it all up with noise and making it sound similar to the last number. But, it's also refreshingly new enough to keep you entertained and revved up for quite some time.

Think Iggy Pop and Taj Mahal drunk off their asses trying to prove who is more creative, with the studio sessions accidentally getting recorded onto one tape. Now you're pretty close to their sound, though nothing can prepare you for this. I'll give it a B+.