Ol' Dirty Bastard
N***ga Please (Elektra)
By: P. Rae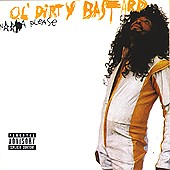 A powerful stream through the mind of Mr. Ol' Dirty Bastard, quite possibly created through a glass-pipe, flows a Fun-Luvin-Hip-Hoppin-Celebration. "N***ga Please," as it is known, Ol' Dirty Bastards second solo release, is about as whacked out an album can get while being one of the finest rides the Hip-Hop genera has ever seen.

Russell Jones, aka, Ol' Dirty Bastard, aka, Unique Ason, aka, Joe Bananas, aka, Dirt McGirt, aka, Osirus, aka, Big Baby Jesus, has finally made music for the tilt-a-whirl year he had in 98, when he became one the biggest entertainers without releasing an album-grabbing the spotlight just before Shawn Colvin accepted her song of the year Grammy and confessed he spent a lot of money on his clothes and "Puffy is good, but Wu-Tang is the best," four days prior he saved a 4-year-old girl from a burning car, was shot by burglars while at his girlfriend's house, was charged with shoplifting a pair of $50 Nikes on July 4, went on tour missing the court date, was arrested in Hollywood's House of Blues for 'terroristic threats' when telling security he was going to shoot them, thirteen days later was tossed out of a hotel in Berlin for hanging out on his balcony naked, arrested again in California for 'terroristic threats' after telling his ex-girlfriend he was going to kill her, told MTV that President Clinton is his cousin because they share the same sexual style, aside all that ODB had a few other court appearances for not paying child support.

So, it's only appropriate the first track on "N***ga Please," which features Chris Rock, is called "Recognize." What you, or the world need to recognize the song says is, "Mr courageous ODB" is a P-I-M-P. While 1998 showed ODB living life on his own terms, "N***ga Please" shows ODB rhyming and building that world according to him on-top of a funk/soul vibe that musically bounces the record to party flavor, all which says, whether he deserves it or not, law enforcement agencies can work overtime to lock ODB away, but his party isn't stopping because the world and everything in it is a continuous party favor for him to play with, scoff at, and mock.

The albums second track highlights ODB's zaniness because he literally flies off the hook vocally in perhaps the most interesting I-Don't-Give-A-Fuck rap that's intensely bright and ultra-crisp (the theme for TJ Hooker gets a crafty speed over). The song though, is funny: "I wanna give a shout out to, umm, them crazy niggas, that, that, in parts of the world where I have never been to. I wanna give a shout out to the Eskimos. I wanna give a shout out to the submarines. I wanna give a shout out to the Army, Navy, Air Force, Marines, you know what I am saying, you all playing my music in submarines, and your boats, play that music, know what I'm saying, it's called traveling music, busting you ass down," and so on until he finally gives a "shout out" to himself.

Rick James' "Cold Blooded," gets hammered through the ODB mind swell perfectly as he continues to clown through song after song with deep beats, laughing and rhyming like a person who's living life to the fullest with the dirtiest intentions that are in fact not dirty at all, but witty without remorse.

ODB is also joined by Kelis, Lil' Mo, 12 O'Clock whom all aid "Mr Courageous" in rearranging boring hip-hop drivel with guts and self-righteous glory. Whether or not ODB actually planed on musically coming off like a late 70s punk rocker remains to be unclear, but that vibe defiantly trails along the entire album through fuzzy-vocals and at times hard-edged lyrics; for instance, the spliced mock on Tupac hysteria and his child support situation, "My mamma can not protect y'all, and I ain't gonna protect y'all."

Nonetheless, "N***ga Please" is a genuine album, there's hardly anything out there like it. It's rumored that ODB is now in rehab for crack possession, this album has crack surges flowing all through it. If ODB gets clean and listens to "N***ga Please" he may not remember much of it and may get high again because it seems like it was a fun record to make. Whatever the case, whatever the world, ODB at the moment, is king of all.