John Digweed
Bedrock (ULTRA Records)
By: P. Rae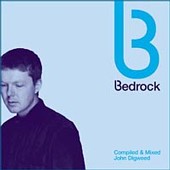 John Digweed, a progressive DJ, sneaky through altering moods with enough subtly to inject an erotic trance around the globe on any given night. Now his atmosphere is compiled and mixed on his recent DD "Bedrock." For the DJ/producer this ongoing club event that began 10 years ago in Hastings has survived the quick change of clubby trends by mixing the virility of dance within sleek emotions giving the night's darkness a rhythm of evolution and vitality.

Digweed remains one of the top DJ's in the world through his hypnosis, an astral traveling that plants seeds of another world when you give yourself completely to the music. And he still creates with a budding following of dance heads from the UK to the USA. Last October he celebrated "Bedrock's" one-year courtship at London's club Heaven and for the past two-and-a-half years remains a solid fixture at Manhattan's club Twilo. "Bedrock" is Digweed and this release highlights his travels as a DJ through 10 years of layering his foundation to where he is now.

"Basically the whole album is reflective of if you come and hear me DJ. I'll be playing that moody tripped-out stuff in the first part of my set. Trying to get the mood going where each track is falling into each other as gradually becomes a little more intense, layering a bit more and slowly starts picking up the groove," Digweed said.

Through the first disc Digweed, one-half Northern Exposure with Sasha is speaking through records. Starting his set with Raff'n'Freddy's "Listen," Digweed bounces more rock-esq house: his rhythms are big, edgy, and leveled not to loud so the vocals can deliver their sampled trance in provocative loops.

"What it does is got those weird vocals in it, which kind of are not songs. Like the Morel track has got a very Underworldish type vocal, or, there's the Judy track, which is very much very much like a Twilo trip sound," Digweed explained.

Slipping bits of forthcoming tracks before actually playing them; Digweed's foreplaying with records is quite similar to the way he bisects romantic, yet distraught, voices through distant phasing emotions between straightforward rhythms. The voices lead the groove as much as the groove moves the voices. BPT's feat of Danny Morales's "Moody," and the dated C12's feat of Jole's "Judy" sets the tone for this dancing communication. As the beats become harder, more manipulated, Digweed uses two versions of Morel's "True" back-to-back, which creates a soft edge of dislocation. He then moves his set into darker territory woven with Morel's lyrics of righteous hypocrisy, e.g. "Jesus don't want you, die alone." Digweed clears up lyrical matters with Jodi & Spesh's "We are Connected," blending trance pitched synths and mystical keys into the nightlife's pogoing system.

On "Bedrock's" second disc, let the progressive trance begin. Smooth bass patters, rhythms exchange high-5's, voices develop into haunting butterflies, and each record Digweed chooses to rotate becomes injected sound for sleek imaginations. The Bedrock remix of Heller & Farley's "The Rising Sun" moves like fingers down your pants, entrapping an eerie whisper juxtaposed with thrusting sensations that will leave you lost in seduction. Digweed closes the compellation by becoming aggressive as hell with his beats, breaks, and heliocentric trance.

Compared with many continuous dance records that get dry after the first spin "Bedrock" becomes glued to your ears and keeps on getting better and better the more you play it. A clear example of the longevity a DJ has when the play their records right.