Alex Gopher
You My Baby & I (V2)
By: P. Rae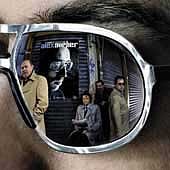 There's a lot of American in Alex Gopher. Snatching his last name from the Love Boat, he looks like Moby fashioned like Beck. He orchestrates his songs like P-Funk while waving trails of Sly Stone. And like a magician, he brings Billie Holiday so close within the funk/soul sound you'd think the Lady in Blue returned to the studio to sing once again her 'God Bless the Child,' this time with Bootsy Collins standing right beside her. However, Gopher's resume of retro-Americana-future-funk-sampled-history was scribed in...France.

Inspirited by the birth of his son Alex Gopher veered away from the House dTcor of Paris' clubby fame to make what he says House music for the Home. From background music to dance floor and headphone humps, the album captures a solace of warmth. It's sleek because it's not forceful, rarely demands attention; it's casual music for everyday people, which cradles Air via a backbone of absolute funk that's working directly from the soul of those innovators who created a party atmosphere for all circumstances.

Gopher wastes no time in letting the listener know what the records about. The first track, 'Time,' features George Clinton/Bootsy Collins collaborators Michale "Clip" Pane and Gary "Mudbone" Cooper and introduces Daft-bass, disco trotting keys, with Pane and Cooper guiding the Detroit-vibe with the same precision they crafted with P-Funk. 'Trying,' the second track, is loop-happy soul with hovering synths, quick-step bass, and four four rhythms pacing the way into a tightly packaged break that bursts all sound like glitter dropping from the sky.

Then comes 'The Child,' Billie Holiday's dip into the electronic realm with little tampering that slides through ears with complete chills. Her voice is reintroduced with perfection as Gopher only clips one word from her and sends it funneling around juxtaposed bass riffs (one-deep, one-crisp) that packs the past within the past through a futuristic looking glass of pure emotion meeting a library of electronics. The fourth track is somewhat of a disappointment because the ethos of Holiday quickly vanish through a robotic-esq dialog of computer generated Q&A. The track features Air's John-Benoit Dunckel, who played with Gopher along with Nicolas Godin in Orange.

The rest of the album intermixes funky jams and lushly orchestrated pillows of sound. ('Party People,' the second single, spins the disco ball with Pane and Cooper bouncing the chorus into Funkytown and around the nation.) Just as Moby used Gospel roots from Vera Hall and deep Southern Blues from Alan Lomax in his latest release "Play", Alex Gopher incorporated the entire Funkadelic Mothership and a few surprises into his debut album. Like Moby he played most of the instruments and sampled them back into his vision. Both tip their crafts to the history of musicians who will continue to live through different avenues of soundart through the advancement of technology. Unlike Moby, Alex Gopher is a name unfamiliar to many Americans, yet "You My Baby & I" is about as American as the Statue of Liberty, one can only hope that liberty will grant him the airwaves to be heard because America deserves it.