Nick Warren
Budapest (Thrive)
By: P. Rae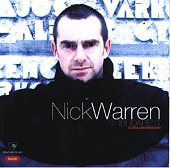 Part 1.
Budapest, a haven for lovers, an expanding metropolis known for embracing old architecture while caressing modernistic baroques; a den of imagination rested in Central Europe. And, for two-hours a technicolor trance beamed from Club Discobolos in Prague that illuminated the Czech Republic with peaceful dilation while the world witnessed a war being fought in Belgrade. And, for two-hours bombs were replaced with deeply transcended bass, as architecture across the globe vanished while colors melted into one another through a artist's spell.

Nick Warren, one-half of Way Out West, brought more than records and effects to Club Discobolos, he brought an universal image, a musical hybrid of trance/house, and acid/house that spoke through sound as if sound itself was a brush. While his frame is definable, his sounds are not. Warren pitches, layers, and slides his set through fractals computers couldn't graph because his sounds trail into a dimension so embedded in our minds that our minds makes us dance to the beats per minute of our own design.

Part 2.
Immediately, Warren unsheathes his turntables by casually flipping down a new world, then for the next two hours soaks the listener/dancer into a woven dimension of bright candy-coated sound and silken thrones of exotic bass. If there's any one doubting DJ's as artists, I highly suggest paying close attention to the architectural baroques that shape and shadow, color and pitch within the infinite Chaos that seeps across the universe in a web of fractals and surreal conscious/subconscious bleeding, iso/topes/mers/metric/morphisms that Warren's sent flying through matter with frequencies, squelches, and laser beam rainbows.

Let your eardrums do the math, science, philosophy, and natural/binary brushstrokes and become one with galaxies that the highest-powered telescope money can afford will never see. What else can I say besides you may need headphones for the full experience or wall of sound, dance floor style.