As Friends Rust
As Friends Rust (Dog House Records)
By: Alex Steininger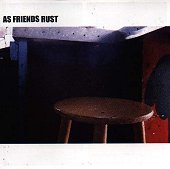 Gainesville, Florida's As Friends Rust, a five-piece emo-hardcore out, know their way around some screaming melodies and emotional lyrics. Their debut self-titled EP is a fierce, solid slab of powerhouse hardcore.

"Half Friend Town" fly's right by you with hammering drums, a thick slab of bass, and lightning quick, razor sharp guitars. The vocals scream, yet still possess the emo tenderness that gives the band the emo pigeonhole. "Like Strings (Spell it with a K)" rips right through any doubts you have about this band as they rattle around in your head with some kick-in-the-ass hardcore. "Fire on 8th and 3rd," "Coffee Black," and "Scapegoat Wets the Whistle" fill out this disc with more grinding hardcore that will tear right through you and expose your soul.

If you don't like hardcore, but like the lighter emo, this may be the middle ground you've been looking for. An emo band with balls, a touchy-feely hardcore band, whatever you want to call them. They know how to speak to your heart and get your blood pumping. I'll give it a B.