Dynamite Boy
Finder's Keeper's (Fearless Records)
By: Alex Steininger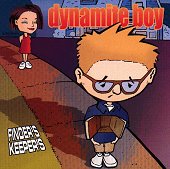 Broken hearts, jaded youth, and some punk rock. This is the formula pop-punkers Dynamite Boy follow on their Fearless Records full-length, FINDER'S KEEPERS. Catchy, melodic, and very sugary, with enough love gone sour stories to go around, this four-piece act is nothing ground breaking or new, but they do what's already been done with style.

The opener, "Julie H," is a sugar coated, bouncy punk anthem that starts off the love-gone-bad theme of the album. The chorus, "As long as I live I can never forget you/ Even though I try with all my might," echoes in your head while the verses provide enough substance to keep you listening throughout.

"Hard Times" keeps the sound-alike pop-punk tunes coming, though they're so catchy and fun, it doesn't matter. The vocals have just the right amount of spit and shine, ringing with a punk growl and a bright pop tingle. The bass and the drums are loud and meaty, while the guitar is slick; roaring, but still easy enough to swallow.

"Happy" finds the band toning it down a bit, taking out the punk and serving up a bouncy, light (but still propelled by an engine) pop ditty. The chorus is another one you'll find yourself singing over and over again: "She's a real nice girl/ The greatest in the world/ She's faithful to all his friends." The band shows that they can write more than one song and still make it addictive.

If you're sick and tired of all the pop-punk acts sounding the same, you may not like this band. Though, if you give it a chance, you just might see the fun and humor, as well as heartache, in the album and be really moved by it. Heck, the songs are so catchy, how could you not be? I'll give it a B.