NOFX
The Decline (Fat Wreck Chords)
By: Alex Steininger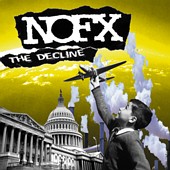 Those fuckers in NOFX know how to push your bottoms and get away with it, as they demonstrate with THE DECLINE, a one-track CD that contains one song; a song that goes on for over eighteen minutes. Very political, the band spits in the face of anyone who doubts their powers and sends a big inside joke out to everyone who gets it.

Let's get the music out of the way. It's typical NOFX. It all sounds the same, let's not kid ourselves. Though, with eighteen minutes of music to plow through, the band does manage to shake it up a bit and create what seems like different songs throughout this one song.

Now that the music is out of the way I can get back to bitching about this. The band that shuns press, the media, and anything corporate, takes their punk rock shtick too far sometimes. And, well, this is one of those times. Come on, how fucking punk rock is a one-track, eighteen-minute song? If you're NOFX, I guess, it's very punk, because they're laughing at people like me who get frustrated with this shit, and sharing a big joke with their fans who are laughing at me too.

Heck, I'll admit it, it's NOFX, and I think it works. Their scheme manages to piss off, anger, and perpetuate the hate some people have for this band, while furthering their "punk rock" cred with little stunts like this. Whatever they want to create, they manage to do so with THE DECLINE. Give up for the only band that could pull this off and not lose fans. I'll give this a B.