Wretch Like Me
Calling All Cars... (Owned & Operated)
By: Alex Steininger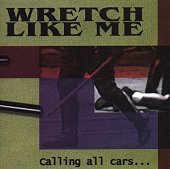 Colorado's Wretch Like Me is the hardest melodic punk band out there. This five-piece is all blood and sweat throughout the fifteen tracks on this album. They know how to kick ass and take names, all the while giving fans of melody something to play around with. On CALLING ALL CARS... they don't give up and just tear up your mind for nearly forty-one minutes as they ensure the only thing on your mind is their music. And, as the press sheet, written by lead singer Abe Brennan, proclaims, "This is one son of a bitch of a record, and you can quote me on that in the huge, positive review you'll no doubt end up doing after listening to it." He's got it dead on, too.

"Things Wrong" opens the album with a bang. Brennan's vocals are blood curling and tough, but very appealing and interesting, adding the depth and curiosity the music needs to really project itself on to the listener.

"Alone" is another blast of fury as Wretch Like Me pound out the hard hitting punk rock that lights a fire under your ass and makes you get up and do whatever the hell you want too. The anger fuels the songs while the fun maintains it. Of course, melody plays a huge role, because without the melody the band's edge wouldn't be as sharp. But, hidden under the rough exterior is the melodic, bright interior that beats as the song beats you.

"Catherine" crushes you like a quick blow to the head. You're expecting another rocketing punk bite, but instead they slow things down and smack you over the head with it, keeping things very heavy and fun, just not as fast. The intensity never leaves, though, no matter what the band does.

"Selfishly Devoted" reels you in with catchy, razor-sharp guitar hooks while the rhythm section is stunningly smashing, creating the headaches that fire the band and keep you driven throughout as well. Then there is "Never Turn Your Back On Rock N Roll," a lightning quick one, and "Happy Song," a song that is still pounding with fury, but possesses the charm and fun atmosphere to put a smile on your face.

Wretch Like Me serves up one punk album not to be passed on. It's all here: power, fun, energy, and intensity. Not to mention speed, speed, and more speed. Get drunk, put this album on, and kick into high gear. It's the Wretch Like Me way. I'll give this album a B+.