American Paint
Eggshells For Paperbacks (No Alternative)
By: Alex Steininger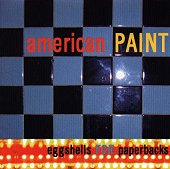 Minneapolis' American Paint is a rock 'n' roll quartet that draw from Midwest influences like Wilco. But, their brand of rock 'n' roll, though it implements country, is all rock. The band shakes things up as they rattle through song after song of fine, dandy tunes that cut you on the edges and warm you with their pop center.

"Over My Head" lures you in with some sweet pop tunes. Though, once "Lu" kicks in, it is apparent this band is all about rock 'n' roll. The drunken country stagger of the song rips through like a soon-to-be alt country favorite. But, if you think for one minute they're going to allow you to classify them as a No Depression/Alt-Country act, you're wrong. "Kings Hwy." soars high with a spirited rock drive. Sweaty and still sweet, the title track continues on with some party time rock moves. All the while, cuts like "B.L.B." and "The Banks of the Blues" find the band toying around with a.m. radio pop influences.

They can move around with ease, jumping from alt-country to a.m. radio pop and back to good 'ol stomping rock without even blinking. They've got the chops and the influences to hit you right in the face with something you wouldn't dare pass on. And, that's exactly what they do. I'll give this a B.