The Hollows
Descend (Low Watt Entertainment)
By: Alex Steininger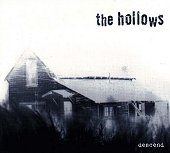 Washington D.C.'s rocking pop quartet, The Hollows, possess the infectious-ness of top 40 pop acts and the charge of a good indie rock band. On their new EP, DESCEND, the band will have you singing along, bouncing and, most importantly, listening attentively to all five tracks.

"Imperfection" is a rocking package of fuzzy guitars, sweet vocals, a powerhouse rhythm section, and a tight ball of pop circling everything. "Another Wasted Year" continues with the infectious pop-driven rock, while "Strength" slows things down a bit with a tender, emotion-centered piece. "Admiration" gets you back up out of your seat. Then they get quirky on the hidden track.

The Hollows definitely have staying power if they're able to keep up the good work in the future. This is a tight pop album with plenty to enjoy. They can rock and roll you, make you spin, or make you think; I'll give the album a B-.