Luna
The Days of Our Nights [re-release] (Jericho/Cello/Sire)
By: P. Rae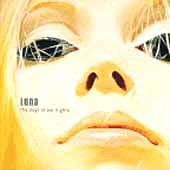 "I saw that girl again today, Reading silly magazines, I saw that Girl again today, Singing songs of bubblegum," ~ Dean Wareham 'dear diary'

It was around this time last year when Mercury Rev's "Deserter's Songs" fell from the sky and blew kaleidoscope sounds throughout my head. Like Merc Rev, Luna's latest re-release constructs air and all senses with a bittersweet blade reflecting dream-esq baroques. "the days of our nights" is like watching a syringe-filled-narcotic strike blood then haze liquid melodies in a crimson-swirl before it washes and alters the canvas of habitual reality.

But, "the days of our nights" wasn't supposed to happen. On the eve of its initial release, around eight months ago, Luna's label (Elektra) dropped the band and the album became an import in the US. Karma works through strange undercurrents nonetheless. Sire, which is under the WEA family (Warner, Elektra, Atlantic) picked up stateside distribution of the record and re-released it October 26. And now, after eight months of major-label-politicking, the US is able to hear perhaps one of the best rock-wrapped-in-silk recordings of 1999 without paying high import cash.

In his casual deliverance, former Galaxie 500 member Dean Wareham plunges Luna through Beat-Poetry exhibits that's modernized pop-culture through an imagescape of dissolvent mass. Out of 12 tracks, almost every one has a world that is entirely Yours to use for Your indulgence through the Velvet Underground meets Pavement induced textures. Whether it's the albums indie-scaled opener, "dear diary," or the tremor-ridden, sharply riffed, 'u.s. out of my pants,' Luna squeezes familiar territory by expanding three-to-five minutes into a timeless journey. When you hear the albums third song, 'the old fashion way,' you know the trip is true: clean guitars embrace shadows of sounds and movements leading the way into a noir sanctuary while harmonies ring beyond thinly placed keys, as Luna meets the verse and builds upon a damp flicker of intravenous bliss.

The album works because it lustfully tweaks and paints rock outside its dimensions. Rolling through progressions with a casual surge of radio-babble then quickly exchanging the energy of the full-sun for the solar power of the moon, "the days of our nights" gently moves from track to track so casually you don't even notice Luna ending the album with a cover of Guns n Roses' "Sweet child o'mine."