Macha
See It Another Way (Jetset Records)
By: Alex Steininger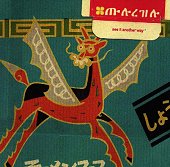 Using your standard guitar, bass and drums, on top of instruments like zither, hammered dulcimer, vibraphone, Indonesian gongs, and a "Fun Machine," this four-piece transcends rock 'n' roll into a multi-cultural experience that is rooted as much in American indie rock as it is in Asian traditional.

Think of it as traveling around the world with a rock band that has the ability to adapt to local customs and sounds. By the end of the trip the band decides to incorporate all their experiences into one sound. It is Orient-based rock that knows how American rock goes, though it doesn't care whether it's the South Pacific or the shoreline of the Atlantic hitting New York, it just wants to blend and bend cultures into one it can call its own. That's exactly what Macha do on their latest. "Riding The Rails," "Until Your Temples Are Pounding," "The Nipplegong," and Mirror" all wrap themselves around standard pop and/or rock, but beyond that, they're all eclectic instruments, sounds, and styles from all over the world.

Here is a band that is hard to appreciate, but once you get into them, you're locked in for good. The first few times I heard them I wasn't sure what to make of it. I liked the eclecticism, but that was about it. But, it just kept growing on me, and here we are now. I like it; I'll give it a B.