Mechakucha
One Million Safe Hours (Frenetic Records)
By: Alex Steininger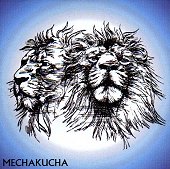 Damn, I like Mechakucha's energy and intensity, as well as their ability to be calculated and chaotic, but instrumental rock rarely, if ever, sits well with me. So, after listening to the first few tracks and realizing that Mechakucha was an instrumental rock three-piece, I was instantly disappointed. I listened to the entire disc a few times, but still, could not get into the album beyond a certain extend.

Granted, as I said, I love the intensity and power of this band, which is amazing. And sure, they've got the chops and mindset to go out and do something against the grain and original. I wouldn't dare knock them for that. But, after two listens, I was finished with this album. The intensity and fiery drive that fuels the band and their instrumental post-rock chaos kicks your ass a few times around, though once you learn their moves, they're down for the count and never getting back up.

The album is worth a few listens (more if this is your kind of thing). But, beyond that, it just doesn't satisfy. Too bad too, because I wanted to like them, because for what they do, they're good at it. It just didn't happen. I'll give it a C-.