Physics
Live: 2.7.98 (Gold Standard Laboratories)
By: Alex Steininger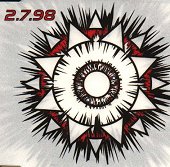 San Diego's post-rock outfit Physics recorded their February 7, 1998 show at the infamous Casbah Club in San Diego straight to DAT. Two of the songs performed that night constitute their latest release, a two song EP spanning over twenty-eight minutes.

I listened to this CD once and was through with it. First off, the songs are thirteen plus minutes. After about six they start to wander and bleed into the next, making these two songs sound like one very long song. Second, they're entirely monotone and instrumental. The pace stays the same throughout both tracks. Here is a sleeper. I just couldn't get into it. I'll give it a D.