Daniel Prendiville
Tantrum Ego (Reincheque)
By: Alex Steininger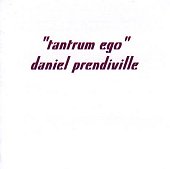 Daniel Prendiville's debut, TANTRUM EGO, is a confusing mess of electronica and guitar-driven pop songs. The first half of the disc (the first five songs), labeled "Guitari Inepti", jumps around pop songs that seem to also want to be very guitar driven, though the guitars wash out the songs and blind them with a metal-ish tint. The second half (the last five songs), "Veni/Midi/Vici", seem to want to funk around with electronica and quirky dance beats.

The CD is a very puzzling one. It's hard to interpret and digest. After a few listens I grew tired of its inability to really choose a direction and stick with it. It's got some good pop hiding underneath the mess of the first five songs. Though, I'm still trying to figure out what the last five songs are all about. I'll give this a D.