Sister Sonny
Lovesongs (Jetset Records)
By: Alex Steininger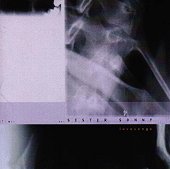 Sleepy, dreamy pop music with a slight cloud hanging over it, the black and white sounds of Sister Sonny are caliginous enough to attract listener's who want a heavy, depressing sound, while poppy and dreamy enough to entice fans of laid back, sultry sounds to take notice. Though, the songs often sound alike and crush into each other, leaving little to no room for distinction. At the same time, if you listen to the album enough, of course, you'll be able to tell each song apart. And, that is when the album becomes the most enjoyable.

You probably won't make it that far. After a few listens, slumberland sets in and their sounds soon become your dreams as you struggle to keep from falling asleep. That's a good thing and a bad thing, but when you don't want to fall asleep and they put you asleep, you realize it just doesn't work. I'll give this a C-.