The Webbers
The Oldest Whiskey In Town (The Webbers)
By: Alex Steininger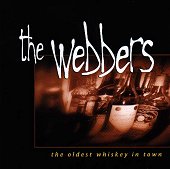 Portland, Oregon's The Webbers may be classified as alt-country/No Depression, but if you actually take time to listen to THE OLDEST WHISKEY IN TOWN you'll see they're just a raunchy rock 'n' roll band that loves their alcohol, women, and having a blast. Think of them as the bar room rock act that, although might not have made it out of the bar, their sound did.

"Drinkin' Buddy" is full-on alcohol-soaked rock 'n' roll. The guitar thunders through the song with its distorted glory while the rhythm section comes crashing down time and time again, giving the song the meat it needs to really get your blood pumping. "A Little Noise" is head wound rock; it's slow and heavy, like a rock 'n' roll 1-2 combo. It stuns you with the first blow and then knocks you on your ass, but isn't fast or anything. What it does it does with subtle force. "Great Big Heart" will get you drinking, thinking, and your blood pumping as the rock 'n' roll just forces you to live the lifestyle and have a blast doing so.

"Hey Buddy" keeps the rock 'n' roll excitement, this time reaching a drunkin' pinnacle, starting off all too fucked up and then regaining its composure. "Bad Waitress" and "Nothin' Is My Favorite Thing To Do" are more blood pumping slabs of rock you won't mind getting drunk and wacky too.

Hey, who would have thought bar room rock acts could be this damn good. They're sound is rock 'n' roll to the core, and a night of drinking and listening is what it calls for. Come on, you know you want too... I'll give it a B.