Eric Lovre & Lisa LeGros
244 (Sound In Motion)
By: Kimberly Berhorst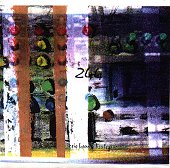 On their self-released debut CD 244 , Eric Lovre (ex-Dharma Bums) and Lisa LeGros exhibit far-reaching mastery in singing, song writing, arranging and performing in a very low-key pop context.

Vintage music lovers especially will appreciate the fact that all of the songs were produced using vintage and budget mics, and all signals were processed through tube stereo components. Combining multi-layers of richly harmonized vocals and thoughtful guitar licks, 244 is nothing short of a small masterpiece in analog.

Lovre and LeGros have collaborated since 1995, and 244 is a testament to pop music devotion and a savvy quest to quietly push boundaries. The 12 tracks interweave analog effects and complex melodies, owing much to Brian Wilson craftsmanship especially on songs like "1972," "Oh My Son" and "In The Eye." LeGros' gospel-rooted alto-tenor is a powerful presence, melodious and effortless, while Lovre's guitar and effects wizardry rejuvenates familiar rock, pop and surf styles.

After touring with the Bums for five years, Lovre played with a couple of bands (Salem, OR-based Springtooth, Series 2000). He now devotes most of his time to making what he calls "Dragging In the Dirt Music." Fueled by a passion for collecting and restoring analog devices, Lovre recently established his Sound In Motion recording studio in his Salem home. From there, he continues collaborating and recording with a variety of NW musicians.

With 244 , Lovre and LeGros have chosen (thankfully) to set themselves a world apart from today's sterile power pop marketplace and seek the artful, less-traveled path. They currently are at work on their next CD.