James Talley
Woody Guthrie and Songs of my Oklahoma Home (Cimarron Records)
By: Alex Steininger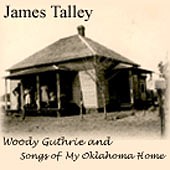 Best known for his work for Capitol Records in the mid-70's, after leaving Capitol Records he may have seemed to fade away, but that is not nearly the case. Still playing the same passionate songs he was cranking out in the 70's, Talley's latest release, an album of Woody Guthrie covers from the 30's and 40's, was recorded in 1994. Yet, due to restructuring at Capitol Records year after year, Talley has decided to release the record on his own Cimarron Records.

The blue collar, working ethic and caring for the common man that Guthrie stood for is alive and kicking on Talley's renditions of the Guthrie classics. "Belle Star" is a dusty country sway that travels down a bumpy path with nothing but hope and smiles on the mind of the traveler. "Deportee" is desolate and desperate, yet uncompromising and somehow uplifting, telling the story of illegal aliens working in the states and then having to return to their country. "Gypsy Davy" is a swift, toe-tapping strut that finds Talley's voice singing in bright Americana while his guitar pours out trickles of happiness on top of the bouncy rhythm which will undoubtedly get you dancing.

The entire album, twenty-one tracks lasting nearly seventy-four minutes, is like this. All heart-warming, tender songs that travel a dirty, lonely trail and always come out positive and bright, never thinking pessimistically, and always looking at the good in every situation. The album is an inspiration; an uplifting piece of American history that is as whole heatedly truthful as it is entertaining. I'll give it an A.