Sunfur
New Skin (Ritual Records)
By: Alex Steininger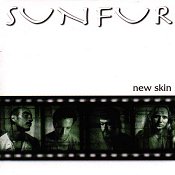 Ever wondered what would happen if Pearl Jam or Creed decided to incorporate trance-rock fluid with Middle Eastern influences? Well, I haven't. But, if you have, your days of wondering are over. Sunfur is exactly that. Take a hard modern rock band, run Middle Eastern grooves through their music, and here you go.

I enjoyed the band's originality and cleverness in incorporating the Eastern influences and trance beats. But, just like Creed, their rock leaves much to be desired. It's moany-whiny hard rock vocals crawl over the deep, groove-heavy rock rhythms and almost make you want to cringe.

The band reminded me way too much of Creed for me to take them seriously. The Eastern influences were intriguing, but even that couldn't help me get past the similarities this band had towards so many others. I'll give it a C-.