Uncle Carl
Uncle Carl (Sha-Shu Records)
By: Alex Steininger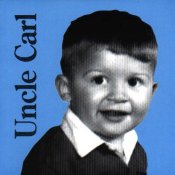 A few drinks, a smoky lounge, a date, and a late night in some dirty bar in Brooklyn. The band on stage is playing some steamy, jazz-blues riffs with lyrics that don't hold back any punches. The singer proclaims he's "too tired to masturbate" and later discusses peeping toms. Well, you've got the sex covered for the night (unless you get lucky because the alcohol and/or the music intoxicates your date and makes him/her horny, but that's a different story). Anyhow, the song stops and the band mentions their name before jumping into yet another steamy, seductive blues-jazz conceptual piece. "What was their name?" you ask. "Oh, Uncle Carl. They're great." A typical reaction to Uncle Carl's live show, I'm sure. And, their debut, self-titled album is a testament to that.

"I'm Smokin' Again" is the steamy lead-off track to this oh-so-hot, dirty, sleazy-yet-classy recording from this perverted, tongue-in-cheek blues ensemble who further the seduction with their jazz influences.

"Peek-A-Boo" takes the silky grooves of jazz and mixes it with some dirty, Lower East Side blues and some lyrics about a peeping tom. "I'm Too Tired" is the number that finds frontman Carl Vreeland proclaiming he's "too tired to masturbate," and "Daffodil" is all about finding the girl you want at the bar and going for it.

Blues, dirty, seductive, jazzy, and a whole bunch of other things, Uncle Carl is a pack of musicians who you've been warned about. But, somehow, you fall prey to their charm and get taken in. Enjoying every minute, of course. I'll give this a B+.