The World Inferno Friendship Society
It's Pumpkin Time 7" (Outersound/Gern Blandsten)
By: Alex Steininger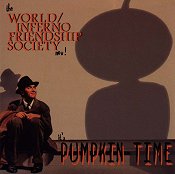 This was a Halloween release. But, I've got this huge problem of collecting 7"'s and letting them sit until enough of them stack up and then sitting down for a day and listening to them a few times each. I know... I'm working on this. And this review is testament to that, even though it's several months late.

Anyhow, The World Inferno Friendship Society deliver show tune swing on the crazy, infectious vaudeville of "The Great Pumpkin." On the b-side, "I Remember The Weimar," the band delivers another slab of swing-vaudeville that will have you up and out of your seat, dancing, laughing, and wishing it was Halloween again. But, it doesn't have to be Halloween for you to enjoy this stuff. I'll give it a B+.