Clawfinger
Two Sides (The Music Cartel)
By: Alex Steininger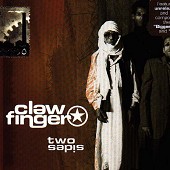 Equal parts rap, hard rock, and electronica, Sweden's Clawfinger take the hard rock-rap sub genre further than its ever been before on their third full-length, Two Sides. Adding sitar, the band gives the done-to-death rap-rock category a face lift with an Eastern meets Western attack that gives the music a nice boost over its contemporaries.

A compilation of tracks that were previously unreleased in the States (with the exception of three tracks), b-sides, and remixes, Two Sides is an industrial strength collection of material sure to give you a fitting introduction to the band. The music is great and pushes the envelope on a lot of the tired rap-rock that is out there. However, the Swedish frontman just can't rap and destroys all the vibes the music has going for it. As instrumentals the songs are unique; with a new vocalist they could really stun. However, the way they are, they're a bust. I'll give the album a D.