Dinosaur Jr.
BBC In Session (Fuel 2000)
By: Alex Steininger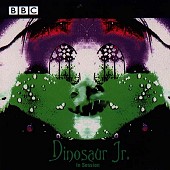 The power rock trio phenomenon is at its apex on Dinosaur Jr.'s BBC In Sessions, a live album that demonstrates just how powerful this influential act, lead by J. Mascis, was and is. The band that spawned Lou Barlow (Folk Implosion and Sebadoh) and influenced everyone from Mudhoney to Nirvana fly's high with their roaring, feedback heavy guitar rock that helped start a rock revival.

Earlier cuts like "In A Jar" and "Leper" show the dynamics that the band thrived on; hard, heavy-hitting beats with roaring guitars that sliced through you with plenty of distortion and feedback. "Keep The Glove" demonstrates the band's ability to stay just as heavy and hard-hitting while toning things down a bit and focusing more on pop than on the caged rage that burned in the band's sounds.

"Budge" is a hook-laden rocker that is equal parts pop and abrasive rock, "Bulbs of Passion" screams with energy and intensity, and "Keeblin" finds Mascis' softer side. "Get Me" digs even deeper into Mascis' softer side. Yet, both "Keeblin" and "Get Me" incorporate Dinosaur Jr.'s trademark feedback and distortion while pushing ahead in a new direction for the band.

As this live album proves, this band was way ahead of their time and helped influence an entire generation of rockers who took their sound and built on it, generating what is to be known as the "grunge" explosion. Mascis and Barlow, when they were together, was quite the team. And in the last years of the band, Mike Johnson and J. Mascis captured another partnership that will go down in history as spectacular. BBC In Session is a quintessential album for any fans of Dinosaur Jr. or the sound that became known as "grunge" or "alternative". I'll give it a B+.