Ghost in the Machine
The Haunting Begins (Self-Released)
By: Sonya Brown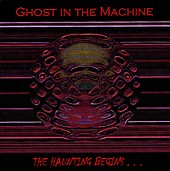 Ghost In The Machine, featuring Michael Kern and Chris Weerts (former members of Hangman, a late 80's metal band), have released their full length cd "The Haunting Begins".

This cd is diverse in content, ranging from techno/electronica to rock with a taste of Industrial and even some sensual R&B thrown in for good measure.

My favorite track is "Lies"... this is an extremely strong track. Beginning with a muted volume and then rising with ferocity into something that would be magnificent on the dance floor. It absolutely rocks. I asked Michael Kern about this particular track. He replies, "This song was our pissed-off anthem about getting lied to... which just about everyone can relate to (unfortunately). It's definitely our most aggressive song on the CD. This song differs from the rest of the CD in a couple of ways. The entire bridge is mainly acoustic guitar, which is not exactly a typical instrument for a mostly electronic band. Also, the song pretty much explodes near the beginning."

Another favorite track is Embrace, which is extremely sexual with a "Lords of Acid" feeling to it. Michael feels that although the song is not all that explicit, he thinks it gets its point across quite easily. "This is probably one of the most melodic songs on the CD", says Michael. "We are currently working on a disco remix of this song at the moment."

The vocals in "The Haunting Begins" are often satanic-sounding with an almost metal edge. This cd is extremely hard to categorize - but I enjoy every track. Michael informs me that there are two types of low, low vocals used on the CD. "For example, the track "Do You Believe" uses vocals that have been sung and then pitched lower to give it that scary, spooky aspect. Chris sings those particular vocals. The other type is that which is spoken that low, such as in the parts of "Suspicion"; and also some in the bridge of "Lies", but it's really buried in the mix... you'll have to listen closely for that one. These vocals are done by Mike."

I particularly like the keys on the track "Supergod", so I asked Michael to elaborate a bit on this. "We have a bunch of different sounds going on in Supergod. The keyboard part in the chorus was added to reinforce the melody, and its church organ-like sound added a bit more gothic-type feel to the song. The keyboard part at the end was included to really make this song stand out. It's kind of a surprise ending, since it doesn't completely seem to fit with the rest of the song. Since we play guitar and bass guitar, all of the synth and piano parts were programmed and not played. Frequently, we would figure out what we wanted to play on guitar or bass guitar and then program that part into the song."

The Haunting Begins is a dynamic release for Ghost in The Machine, and makes me wonder what these 2 talented musicians are capable of conquering in their future endeavors.